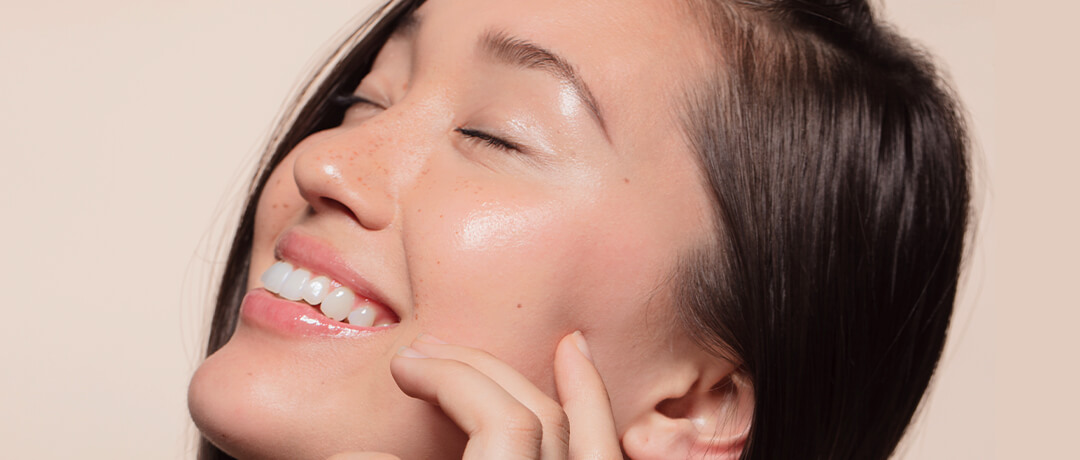 If you've heard of or seen the glass skin" K-Beauty trend then you totally understand why we're obsessed with it. Glass skin can best be described as your most luminous, dewy, so-clear-it's-almost-transparent skin yet—AKA total #skingoals. Achieve glass skin, and you'll be stealing glances of yourself in the mirror, in the window, in the reflection on your laptop, on your video calls…you get the picture. Results this gorgeous might seem out of reach, but trust us—you can absolutely master this skincare routine at home and reap the glowy benefits. Glass skin adds a few steps to your beauty routine, and these steps are easier to learn than you might think—so it might just be time to embrace your new favorite skincare ritual.
Beauty-obsessed content creator Amy Chang takes you through everything that goes into a glass-skin routine, starting with your cleanser. For the best results, she recommends starting with a double-cleanse—the foundation of a solid K-Beauty routine—to make sure your skin is extra clean and prepped for the skincare products that follow. Don't be afraid to take your time with your double-cleanse (and remember to take your products down to your neck!). You'll move onto hydrating products next: a toner mist (to rebalance your skin's pH after cleansing), then an essence. Chang follows the "7-skin method," which is a K-Beauty technique of layering your essence seven times. Only have the time (or patience) for one layer? That's totally fine, too—you can move onto the next step, which is applying a hydrating serum all over your face. If you haven't caught on by now, glass skin is all about hydration, hydration, hydration. Your final two steps are to dab eye cream lightly around your eye area, then seal in all the products you just applied with your fave moisturizer.
Want in on all the IPSY Glam Bag fun? Take our Beauty Quiz now to get started. Already an Ipster? refer your friends to earn points, which you can use toward products. Either way, don't forget to check us out on Instagram and Twitter @IPSY.